In October, I started keeping a gratitude journal.  Inspired by
Ann Voskamp
, I wanted to deepen my relationship with God via thanksgiving.  I counted two hundred eighty nine small and large gifts -- and then
my daughter died
, without warning, without cause, before she was born.
After giving birth and returning from the hospital with empty arms, I began to continue recording my thanks.  At first, I was afraid to.  How could I be thankful for anything in the wake of such tragedy, in the caverns of such pain?  And yet, there were gifts.
Today, I have nine hundred eighty two gifts recorded in my gratitude journal.  Of those nearly one thousand gifts,
six hundred ninety three
were recorded
after
my daughter's death.
I am amazed, and I am grateful.
Here are some of the gifts I am finding as I battle my way through the excruciating passing of the days (sixty four days, to be exact, since she was born dead).
#772... spaghetti for dinner
#773... feeling energized and hopeful at some parts of the day
#774... returning to A Grace Disguised after too long
#775... snuggling with the Best Husband Ever on the couch
#776... watching the Buffy musical with the Best Husband Ever
#777... . . . and hearing him sing along
#778... receiving a letter from God (!!!)
#779... realizing just how much better (yes, better) my life is now from a year ago
#780... clean sheets
#781... making the bed with my husband
On Mondays, I catch you up on the beautiful gifts -- both large and small, hard and comfortable -- that God has been throwing my way. Read more about my gratitude adventure here, and start your own One Thousand Gifts adventure by clicking on the banner below.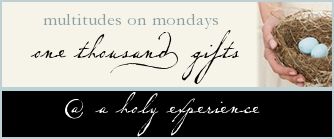 I am also linking up with Small Bird Studios as we celebrate hope even through our grief.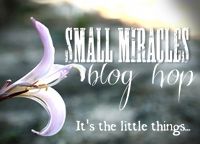 What are you feeling grateful for today?