#123... knowing that God never leaves me
#124... feeling clean and lovely
#125... preparing for labor and parenthood by reading Birthing From Within
#126... knowing that God is in control...
#127... ...and that I don't have to be
#128... nurturing the Best Husband Ever and being nurtured by him
#129... Sunday night dinner with the Best Inlaws Ever
#130... treating myself to some soda
#131... a crazy snowstorm in the northeast ushering in winter
#132... the Best Husband Ever
#133... hot lemon water in the morning
On Mondays, I catch you up on the beautiful gifts -- both large and small, hard and comfortable -- that God has been throwing my way. Read more about my gratitude adventure here, and start your own One Thousand Gifts adventure by clicking on the banner below.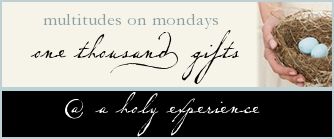 What are you feeling grateful for today?