On Mondays, I catch you up on the beautiful gifts — both large and small, hard and comfortable — that God has been giving me. Start your own One Thousand Gifts adventure by clicking on the banner below.
...
a rainbow blanket for our rainbow baby from a
sweet friend
whose own rainbow, Charlie, recently died
... all three dogs curled up on the bed with me as I write my gifts
... enjoying making my first ever
speaking video
... pregnant moon
... pregnant belly (24 weeks + 5 days today!)
... a visit from far-away family
... a friend's baby born 10 weeks early but healthy (pray for them? he's in the NICU for 4-6 weeks)
... Cody running and woofing in his sleep
... the Best Husband Ever tickling our niece's feet
...
healing painting
... staying long after church to talk with a much-missed friend
... watered flowers
... a message to
not be afraid
seeming to be whispered from many lips
... beginning to catch glimpses, finally, of how I am changing, even though it feels precarious and I can't see how it will end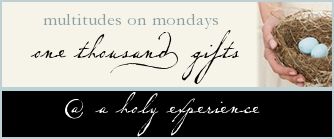 * * *
Today is the last day to receive 20% off any one purchase from
my Etsy shop
(excluding gift certificates) with the coupon code
GRATITUDE2012!