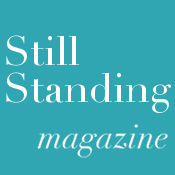 It's finally here! At 12:01 this morning,
Still Standing Online Magazine
for babyloss and infertility went live. Founder
Franchesca Cox
has put months of planning and love into this incredible project, in honor of her first child, Jenna Belle, who was born 11 weeks premature and lived for only 13 days.
I continue to feel so honored that Fran asked me to be one of the 16 contributing writers to Still Standing. And already the magazine is taking off big time! Fran has been kicking off the magazine's launch with a week's worth of
amazing giveaways
, including a sweet
20% off coupon to my Etsy shop
(it's not too late to enter!). And just a couple of hours ago,
Yahoo News featured Still Standing
on their site. Wow!
If you haven't checked out
Still Standing Online Magazine
yet, I encourage you to do so. There are a myriad of resources on babyloss and infertility, a forum that I am so excited to see start being used, and new posts that go up daily (my first article goes live on May 22, and continuing every third Tuesday thereafter). Isn't it amazing that such devastating life events can bring us together in such a beautiful way?
Now if you excuse me, I'm off to check out the
forum
again . . .