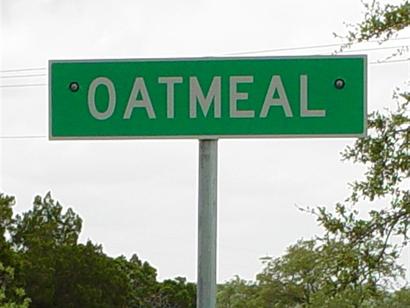 Remember how I wrote
that I never joined the ranks of oatmeal-adoring healthy food bloggers? Well, I may have to rescind that statement. This week, I have eaten
three bowls
of oat bran as either a breakfast or lunch. I barely make three bowls of oats in a year, much less in the space of a week. I might have to get myself an oat fan button or something.
The thing is, it's been chilly here. Right now, at 10:45 on an August morning, I'm sitting at my kitchen table typing with goosebumps on my arms and cold toes. Our blazing ninety degree weather has tempered drastically with the help of a week's worth of intermittent thunderstorms. Not that I mind -- I love when the temperatures never climb out of the seventies and I don't have to worry about my dogs dehydrating on a hike.
But the cooler temps mean that a morning smoothie (or even an afternoon one) doesn't sound all that appetizing. Instead, I've been cooking up some stove-top oat bran. I believe that this week's concoctions have included peanut butter and coconut butter, both of which were delicious. I also accidentally dumped a massive pile of ground ginger on yesterday's oat bran, but thankfully a quick dash of maple syrup and some cinnamon and nutmeg evened the spice's flavor out and made for a tasty breakfast bowl. What's your favorite oatmeal/bran recipe?
On a random note -- I found the funniest photos today when Googling for oatmeal images. Click on images to visit their original sources (the dinosaurs-in-bowl one is particularly worth checking out), or just hang out here and giggle with me while you contemplate your response to my recipe query.
(Get it?
Barney Butter
?)