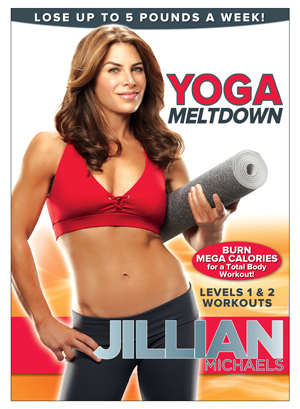 Jillian, you've failed me. You've kicked my butt so many times while we
shredded
,
banished
, and
toned our zones
together. I thought you liked being my DVD drill sergeant, my svelte and snarky sweat-inducer. I thought our relationship meant something . . . until I watched
Yoga Meltdown
. The trust is gone, Jillian. The trust is
gone
.
Maybe I'm being a little melodramatic. Or extremely, obnoxiously melodramatic. Jillian Michaels' new yoga DVD isn't as awful as I'm making it out to be. There are actually a lot of good qualities to these two 30 minute yoga workouts. They are both challenging and work your muscles, abs included. Jillian is her usual sassy self, urging her audience to push themselves and make the most of each move. The pace is not so quick that a beginner would be lost and frustrated trying to keep up. Overall, these are two solid workouts.
Which is what I think is wrong with this DVD. Jillian gives us two good sweat sessions -- but are they yoga? Because I think of yoga as effort combined with relaxation, strength joining flexibility, sweat meeting breath. Yoga Meltdown has all the effort, strength, and sweat parts down cold, but aside from throwing out a few reminders to breathe, Jillian is not exactly the embodiment of yoga bliss.
Then again, she doesn't try to be. Jillian does admit -- at regular intervals, if memory serves me correctly -- that she is still learning yoga. But if she's not a yoga expert, what is she doing producing a yoga DVD? While her pacing is fine for a yoga newbie, I don't think she gives enough instruction on safe posture and alignment. Even as a more experienced yogini I found myself tempted to muscle through difficult poses in response to Jillian's cuing in these workouts. Bad form can lead to unnecessary pain or even injury.
I like Jillian Michaels. Well, sort of. Mid-workout I find myself harboring quite a dislike of the metabolism queen, but I like what she does to my heart, endurance, and muscles. Jillian knows what she's doing in the aerobic and sculpting arenas. Yoga is not her forte, it seems, and while Yoga Meltdown may be yoga inspired, it's not truly yoga to me. I think Jillian should stick to her strengths and leave yoga alone.
What do you think? Have you tried Jillian Michaels' newest DVD,
Yoga Meltdown
? Am I being too hard on her?
~ ~ ~
Om This! Update
: Okay, after hassling Jillian about how she's taking the bliss out of yoga, I feel more than a little hypocritical about issuing a yoga challenge, especially one called "Om This!" Sorry, everyone. Nonetheless, my recent yoga-ings have been more flowing than the challenge's name implies.
Wednesday -- I did Lotte Berk's Muscle Eats Fat workout, which incorporates elements of classical dance and hatha yoga. It wasn't my favorite thing ever, but since it was only a library rental I don't feel that I wasted anything in trying something new.
Thursday -- Today I did a 90 minute Baptiste podcast class from Dave Farmar. I'd love to one day attend a live class with Dave Farmar. For now, though, my living room yoga is a good place for his RSS sweaty asana bliss.

How are your om efforts going? I want to give a shout-out to
Katherine
, who has been the most regular Om This! participant and who has faced brave/difficult challenge of opting for yoga over cardio -- twice! I know how tough that can be for some people (like me). I'm really inspired by how she chose to listen to what her body needed (some evening yoga) instead of hauling herself through a potentially damaging cardio session. Go Katherine!
Don't forget to post your entries in the
Om This comments
. Two more days to go and then I will reveal the winner of an elite membership to
YogaDownload
(where, incidentally, you can find some sweet Dave Farmar classes in audio and video). Yoga on!