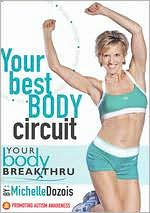 I'm an exercise DVD junkie. I have a fairly large collection of workout videos. From my first purchased DVDs (
Yoga Booty Ballet
-- don't judge) to
Tae Bo
, I own a nice range of at-home workouts and, more importantly, I use them all. (Well, most -- Yoga Booty Ballet has sort of fallen off my radar since I got more serious about fitness, but it is a great series for beginners.)
One of my favorite video fitness instructors is
Michelle Dozois
. An Amazon.com reviewer of one of her DVDs once said that she is a true professional, and its true. She gets the job done and works my body big time every session that I use one of her videos. I would rank Michelle's workouts right up there with
Jillian Michaels
, who is quite possibly the most popular fitness star at the moment.
But there's a difference between Jillian and Michelle. Unlike Jillian, of
The Biggest Loser
fame, I don't hear Michelle Dozois' name being chatted up in fitness communities. In my opinion, that's a real shame, because her workouts are fantastic. Please don't misunderstand me -- I'm not trying to dis Jillian. I love Jillian and the horrible/wonderful things she does to my muscles and my metabolism. But I love Michelle Dozois, too, and am sad that she does not get to hang out in the fitness industry limelight as prominently.
So I thought I'd give Michelle a little time in the Kitchen Courage spotlight (if you can really call anything on this little blog "spotlit"). I first found Michelle when I tried
Shape's Bikini Body Camp Transforming
DVD, which she co-starred in with two other fitnessistas. After doing a little research, I got my hands on one of Michelle's 10 Minute Solutions videos,
Carb and Calorie Burner
. Through some Netflixing, I discovered her amazing series of workouts produced by
Breakthru Fitness
, and you can bet that those DVDs soon found a home on my shelf.
I think that Michelle Dozois'
Breakthru Fitness
DVDs are some of the at-home workout world's best kept secrets. Michelle's workouts will shred your body just as much as
Jillian's
, if not more. Michelle has made four DVDs:
I'll stop gushing now. And in case you were wondering, no, I am not being endorsed by representatives of Michelle Dozois or Breakthru Fitness. I simply think that Michelle Dozois' workouts are effective and fun (well, as much fun as Jillian's) and worth every cent. If you don't believe me, check Michelle out on
Amazon
. Better yet, look Michelle up on
YouTube
and try one of her DVDs' previews, like this one:
If you do know of Michelle Dozois, or if you try one of her home workouts, what do you think? I'd love to know your opinion of her. Let's spread a little Dozois love! In the meantime, happy sweating!